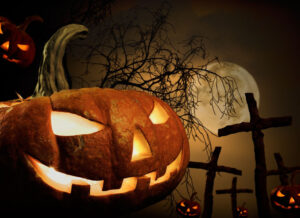 Shore Meadows Lodge is open through October 24 for all your Lake George Halloween Fun. Stay with us for Fright Fest at Six Flags Great Escape and enjoy family-friendly attractions during the day and Fright by Night monsters and scares after 5:00 PM. The Halloween event of the season is open on weekends in October and each year is spookier than the last.
Family-Friendly Thrills
From 12:00 to 5:00 PM on Saturdays and Sundays, experience non-scary, family fun. Fright Fest by day features sweet treats on the Trick-or-Treat Trail, a Monster Mash dance party, and other age-appropriate thrills. Costumes are not permitted for guests over the age of 12.
Scare Zones
After 5:00 PM, the monsters come out of hiding. Beware what lurks in the shadows as you walk through the park. Zombies, witches and other demons patrol the grounds, just waiting for you to take a wrong turn or get separated from your group.
Rides
Roller coasters are thrilling by day, but they are downright scary in the dark of night. Take a cursed ride on The Comet, Steamin' Demon, Flashback, Grand Carousel and Demon's Ring. Is that a ghost in the seat next to you? These Fright Fest rides will haunt your dreams.
Haunted Attractions
Only the bravest souls dare to enter the Fright Fest Haunted Houses. Admission to these attractions is not included with a park ticket, and must be purchased separately, but it's well worth it to experience these spine-tingling tours of darkness.
Entertainment & Shows
If your biggest fear is sing-a-longs and dance numbers, you won't want to miss the Fright Fest Shows. Enjoy scary skits, professional entertainers and top-shelf entertainment at multiple times throughout the afternoon and evening at various locations across the park.
Buy Tickets
Tickets for Fright Fest can be purchased at the park or online. For Fright Fest 2023, one-day tickets purchased online cost $40-$45, and the Haunted Attractions pass costs $25, or you can purchase a One-Day Ticket + Digital Haunted Attractions Pass Bundle for $65. Six Flags Great Escape also offers an All-Season Haunted Attraction Pass, and other Season Pass options. Buy Tickets
Book Your Stay in Lake George
Shore Meadows Lodge is located at the north end of Lake George Village, less than 7 miles from Fright Fest at Six Flags Great Escape. Book your Lake George fall vacation at Shore Meadows Lodge and enjoy hiking, biking, fall festivals and more. Call (518) 878-3906 or book online.